Osher Lifelong Learning Institute @ Sonoma State University
OLLI á la Carte at The Glaser Center
Friday mornings, 9:30am- 11:30am, September 22- October 27
The Glaser Center, 547 Mendocino Ave, Santa Rosa, CA 95401
(between 7th and 10th Streets, one block south of College Avenue)
Ample public parking is available at the Seventh Street parking garage adjoining the building.

September 22 "Exploring Opera: Renée Fleming"
James K. Sokol, M.A., has worked in the opera world since 1988, having begun his career under Beverly Sills at New York City Opera. He is a Founding Member and Advisory Board Member of the Singers Development Foundation. Sokol worked with the Opera Company of Philadelphia and spent several years working for San Francisco Opera and is a former Executive Director of San Francisco's Pocket Opera.
September 29 "A 150 Year-old City of Newcomers: Myths and Realities of Santa Rosa's Immigrant History"
Margaret Purser, Ph.D., Chair of Anthropology at SSU, has worked since 1980 in community heritage research, both in the United States and internationally. She is currently working on a community-based heritage mapping project for the Santa Rosa sesquicentennial in 2018.
October 6 "Collecting Marine Creatures for Science, Education, Medicine and Movies"
Paul Siri, M.S., a marine animal behaviorist and fisheries conservation biologist, has worked for the Hawaii Institute of Marine Biology, the Naval Undersea Center and the University of California. He has consulted for the Monterey Aquarium Research Institute, the State Ocean Protection Council and the UN Food and Agriculture Organization.
October 13 "A Tale of Two Songs: Greensleeves and Amazing Grace"
Kayleen Asbo, Ph.D. is on the faculties of the San Francisco Conservatory of Music, Pacific Graduate Institute in Santa Barbara and the OLLI programs at UC Berkeley, Dominican University and SSU. She is a preconcert lecturer for the Santa Rosa Symphony, the San Francisco Opera and the Mendocino Music Festival.
October 20 "The Sporting Life: Big Time Athletics in Modern America"
Mick Chantler, M.A., student and instructor of early American studies for over 40 years, has also taught in the Road Scholars Program. While his primary interests include the Revolutionary and Civil War eras, he is most passionate about sports, primarily baseball. He is a member of the Society for American Baseball Research.
October 27 "POTUS #45: The Administration that Changes from Morning to Noon to Night"
David McCuan, Ph.D. has expertise in two broad areas—American politics and International Relations. His research centers on state and local elections, and the study of terrorism. Dr. McCuan was a Fulbright Teaching Scholar in 2009-2010, working in the Dept. of International Relations and European Studies, Masaryk University, Czech Republic, where he taught courses in U.S. national security policy, terrorism and U.S. foreign policy.
To register for a class or to request a catalog, please call the OLLI office at 707.664.2691.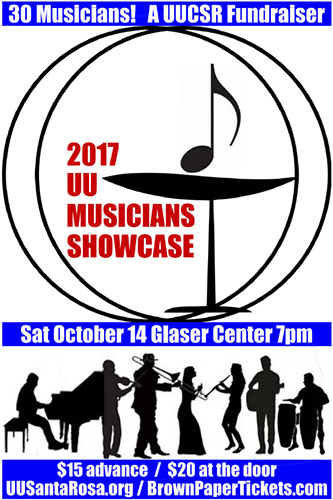 2017 UU Musician Showcase
Saturday, October 15, 7:00 pm
Don't miss this fabulous showcase concert featuring thirty musicians and twenty timeless musical selections. From intimate duos to rock and roll boogy, to an eight piece Dixieland band, you will be in for an evening of fine music, all featuring your spectacular UUCSR Music Coordinators, Alan Bell, Claire Beery, Natalie Brundred, Roger Corman, Paul Gilger, Robert Howseman, Susan Panttaja, John Ray, Eric Skagerberg, members of the UUsual Suspects, and other special guest musicians.
This event is a fundraiser for the UUCSR at the Glaser Center.
Produced and directed by Mary Chapot and Paul Gilger
Advance ticket sales for the price of $15.00 will be available after Sunday Services Starting on September 10th, 2017. Or get your Advanced-priced tickets now from Brown Paper Tickets.
Tickets will also be available for sale at the door on the day of the event starting at 6:30 pm. Price will be $20.00.